Toose Technologies Portfolio: Sports Related Websites
Missouri Wolverines Youth Organization Inc. - www.missouriwolverines.com
(Client Since 2000)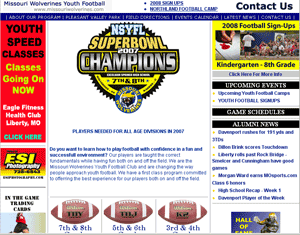 Launch This Site


Company Overview:
Missouri Wolverines Football was developed with the intent of helping young athletes develop their skills both on and off the field as they prepare for high school. With this in mind, we stress to each player that someone should only recognize them as a football player by their size. We do not tolerate bullies or players that have to cause trouble off the field. The Wolverines preach the philosophy of "Gentlemen With Courage" to players. This means that on the field you need to be a hard nose aggressive athlete, giving 100% each and every play. However, off the field, you are to conduct yourself as a gentlemen. The fallacy that football players have to be tough guys all the time is not only ridiculous but not tolerated in our organization. We ask our players to have the courage to use their brains instead of their brawn, hence is why with each passing year more and more high school coaches around the area are complimenting the Wolverines players as they move onto local high school teams.

Website Features:
Ad rotation banner which allows organization to raise money via sponsorship. Customized control panel which allows organization to update news, events, schedules, and player information.

Services Provided:
Toose Technologies provides Web Site Design, Management, and Maitenance, Web Site Hosting with Search Engine Optimization, and Email with Webmail.


---
Northland Youth Football Camp - www.northlandfootballcamp.com
(Client Since 2002)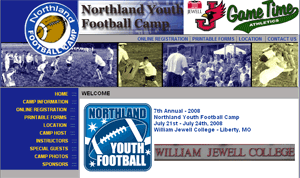 Launch This Site


Company Overview:
The Northland Youth Football Camp Staff in combination with William Jewell College are proud to sponsor the Annual Northland Youth Football Camp. Local high school and youth football coaches are proud to put on a youth football camp focusing on the techniques and fundamentals needed to succeed at the youth level and to help players prepare for the upcoming football season. Aside from learning the game of football, special guests talk to the players each night about football, life, and why playing youth football is important.

Services Provided:
Toose Technologies is the complete solutions provider for the camp's website which includes website design, content, graphics, database architecture, e-commerce solutions, and hosting services.


Portfolio Main Page
Toose Technologies has been providing services to clients in a variety of industries and market segments. Click on any of the industry links below to learn more about projects in that category:
PORTFOLIO CATEGORIES:
SPORTS RELATED WEBSITES: