Toose Technologies Portfolio: Restaurant & Night Club Websites
Touché the Night Club - www.touchethenightclub.com
(Client Since 2005)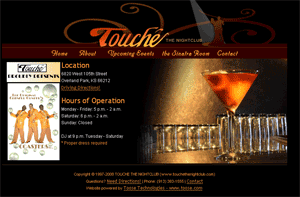 Launch This Site


Company Overview:
What started as a small neighborhood lounge in 1977 known as Brothers III evolved into one of the Kansas City area's finest night clubs in 1997. After a location and name change, the club was born. Patterned after a night spot in southern California, Touché was an instant hit. Club patrons come from all parts of the city and enjoy the surroundings, music, and the personal touch from the management.

Geared towards the middle aged crowd that grew up with the fabulous music of the 60's, 70's, and 80's, Touché is an upscale night club located in the heart of Johnson County. Surrounded by many fine hotels and restaurants, Touché is 2 blocks north of Interstate 435 and Metcalf Avenue. The warm cozy atmosphere of the club is comfortable and inviting. A great place to meet or talk business after work! The DJ kicks in at 9 p.m. Tuesday thru Saturday, and the dancing begins. We're sure your stay at Touché will be a pleasant one.

Website Features:
Monthly Updates done via contact with client. Flash header and weekly updates done to their Upcoming Events Section.

Services Provided:
Toose Technologies provides Web Site Design, Management, and Maitenance, Web Site Hosting with Search Engine Optimization.


Portfolio Main Page
Toose Technologies has been providing services to clients in a variety of industries and market segments. Click on any of the industry links below to learn more about projects in that category:
PORTFOLIO CATEGORIES:
RESTAURANT & NIGHTCLUB WEBSITES: