Toose Technologies Portfolio: Lawn Care Websites
GameTime Turf Care - www.gametimeturf.com
(Client Since 2004)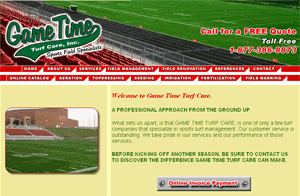 Launch This Site


Company Overview:
What sets us apart, is that GAME TIME TURF CARE, is one of only a few turf companies that specialize in sports turf management. Our customer service is outstanding. We take pride in our services and our performance of those services.

Website Features:
Toose Technologies created an online presence which highlighted Gametime's services and gave them an opportunity to send clients to a central place to view their work and see the services they offer.

Services Provided:
Toose Technologies provides Web Site Design, Management, and Maitenance, Web Site Hosting with Search Engine Optimization, and Email with Webmail.


Portfolio Main Page
Toose Technologies has been providing services to clients in a variety of industries and market segments. Click on any of the industry links below to learn more about projects in that category:
PORTFOLIO CATEGORIES:
LAWN CARE WEBSITES: