Toose Technologies Portfolio: Bankers Association Websites
Missouri Independent Bankers Association - www.miba.net (Client Since 2005)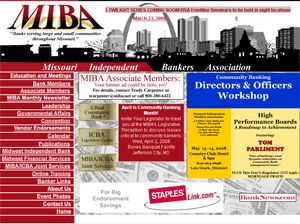 Launch This Site


Company Overview:
The Missouri Independent Bankers Association is an organization of small and medium-sized banks, locally owned, operated and dedicated to meeting the financial needs of their communities.

Website Features:
Monthly Updates done via contact with client.

Services Provided:
Toose Technologies provides Web Site Design, Management, and Maitenance, Web Site Hosting with Search Engine Optimization, and Email with Webmail.


Portfolio Main Page
Toose Technologies has been providing services to clients in a variety of industries and market segments. Click on any of the industry links below to learn more about projects in that category:
PORTFOLIO CATEGORIES:
BANKERS ASSOCIATION WEBSITES: